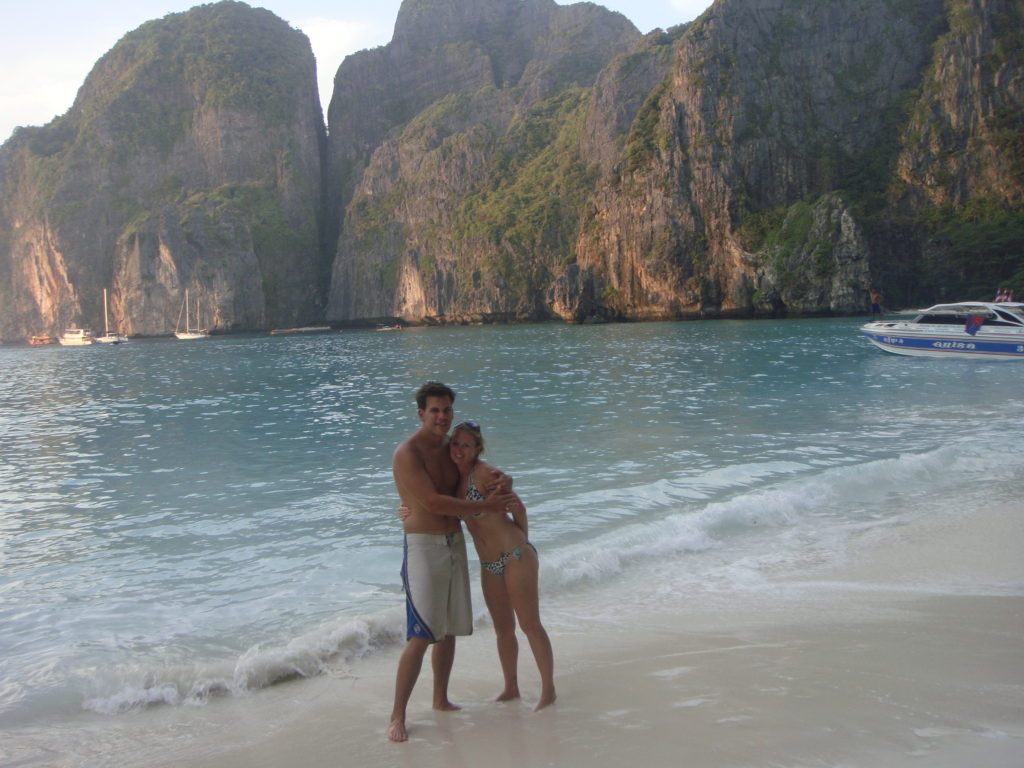 So a quick recap of our Thailand trip is in order. From Bangkok, we flew down to Krabi and stayed three nights in Ao Nang (on the above-right map) and then four nights in Ko Lanta (with a day trip to Ko Libong). After Ko Lanta, we took a ferry to Ko Phi Phi where we stayed for three nights. I found a hotel in Ko Phi Phi for about $50 per night and here was the view from our room.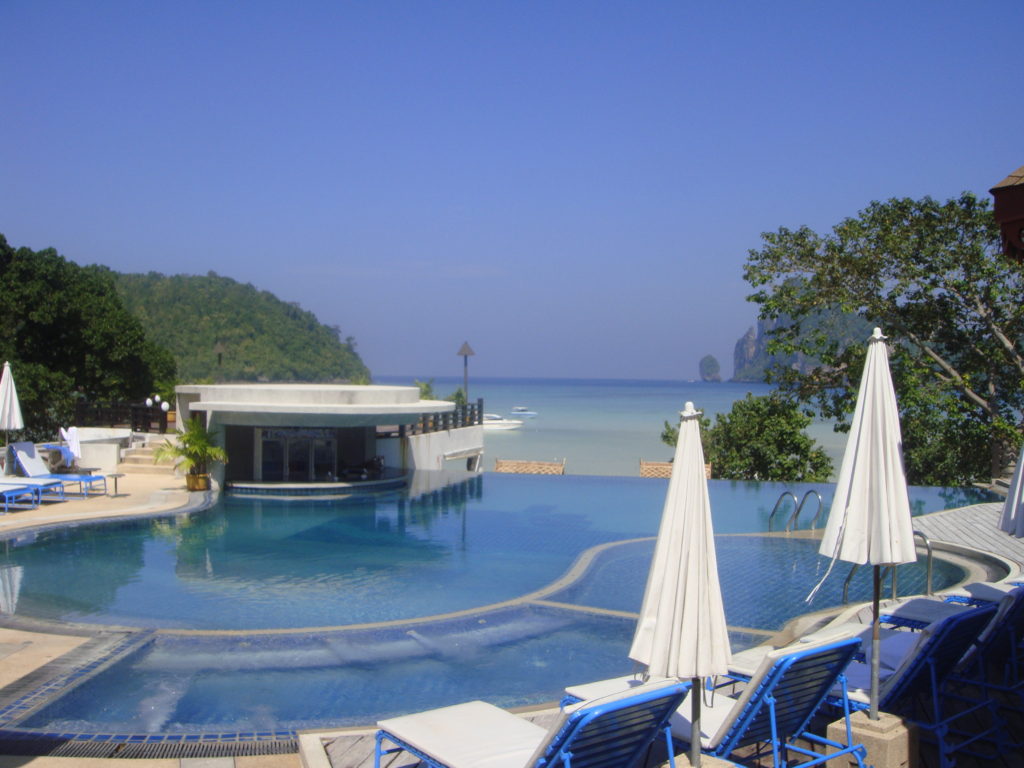 Ko Phi Phi was also hit very hard by the 2004 earthquake and tsunami that killed almost 300,000 people in fourteen different countries in Asia. Here is part of a really good documentary about this tragic event.
Five years later now, the island has been rebuilt quite a bit. On the boat ride in, we realized what a beautiful island this is.
Our first day we hung out on the beach at the pool at our hotel.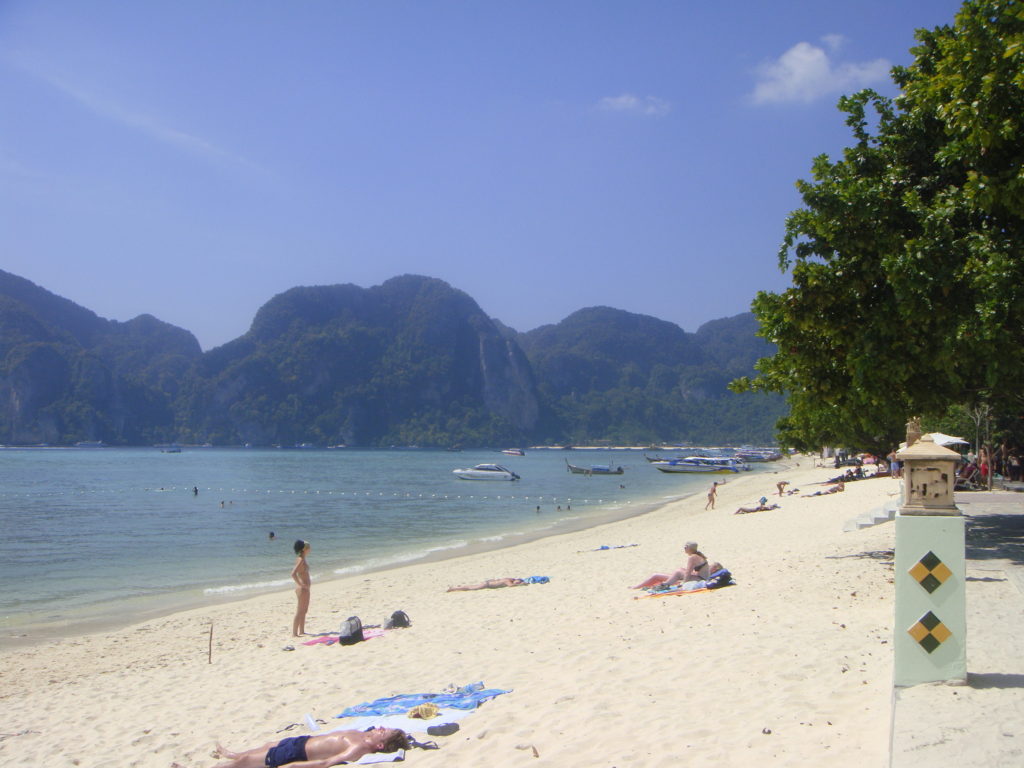 On our second day, we took an island-hopping speedboat tour. The first stop was snorkeling with a bunch of black-tip reef sharks. Of course, one of the islands also had monkeys everywhere that ran up to the shore when tourists arrive. The dramatic karst rock formations, sunny blue sky and cerulean water made for incredibly beautiful scenery.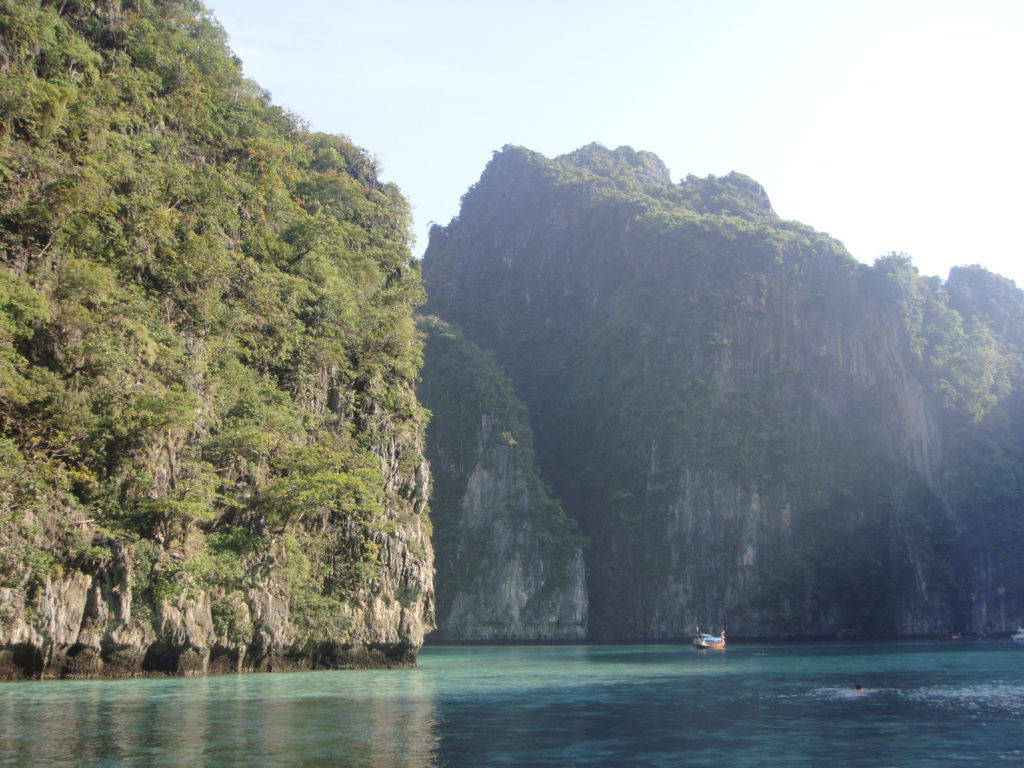 Here are some pics of the monkey (macaque) island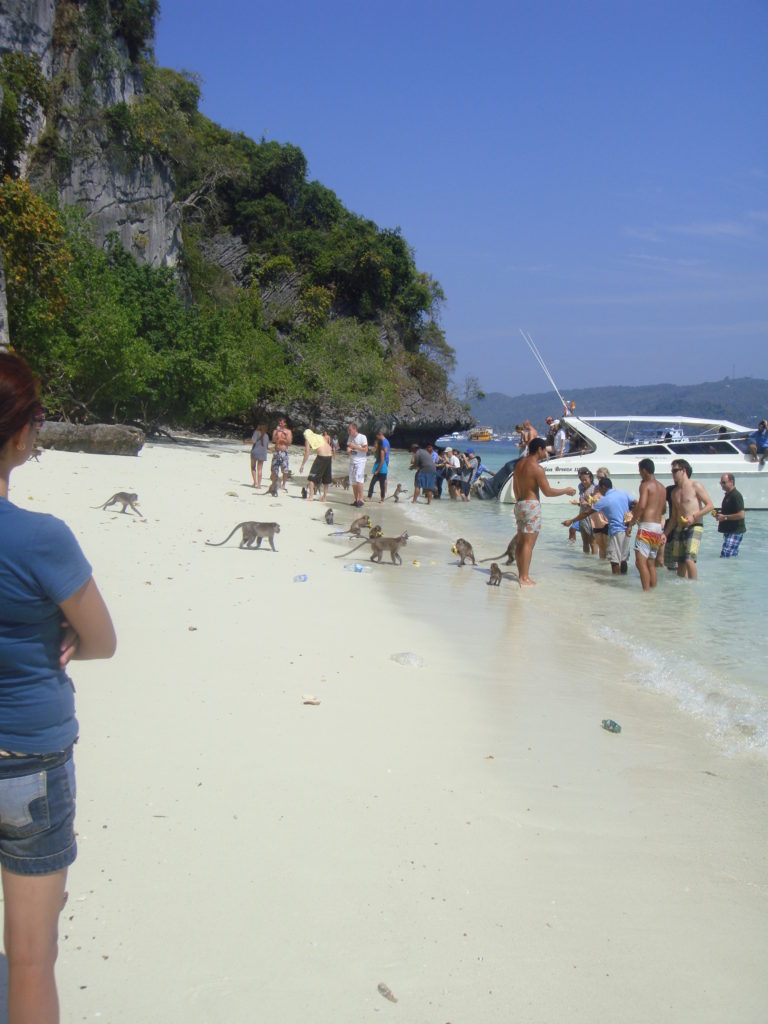 I took some underwater photos with a disposable camera and you can see the quality is not so good.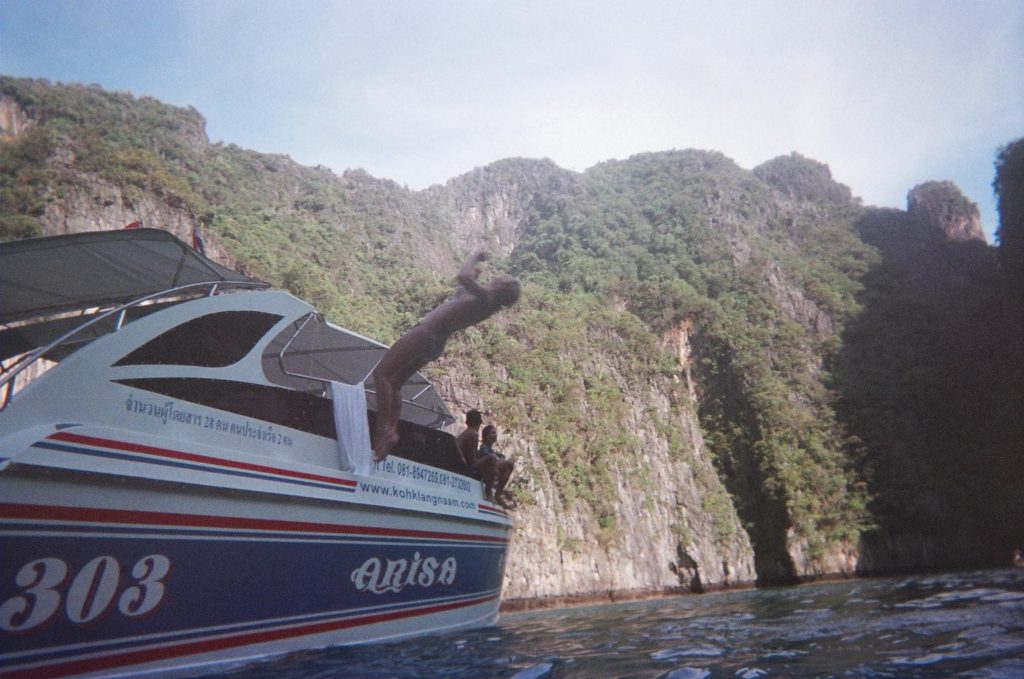 The dramatic scenery was so pretty all around.
Bird's nest soup is a delicacy in China and these cliffs contain the nests used to make this soup. In several places we could see workers harvesting the nests.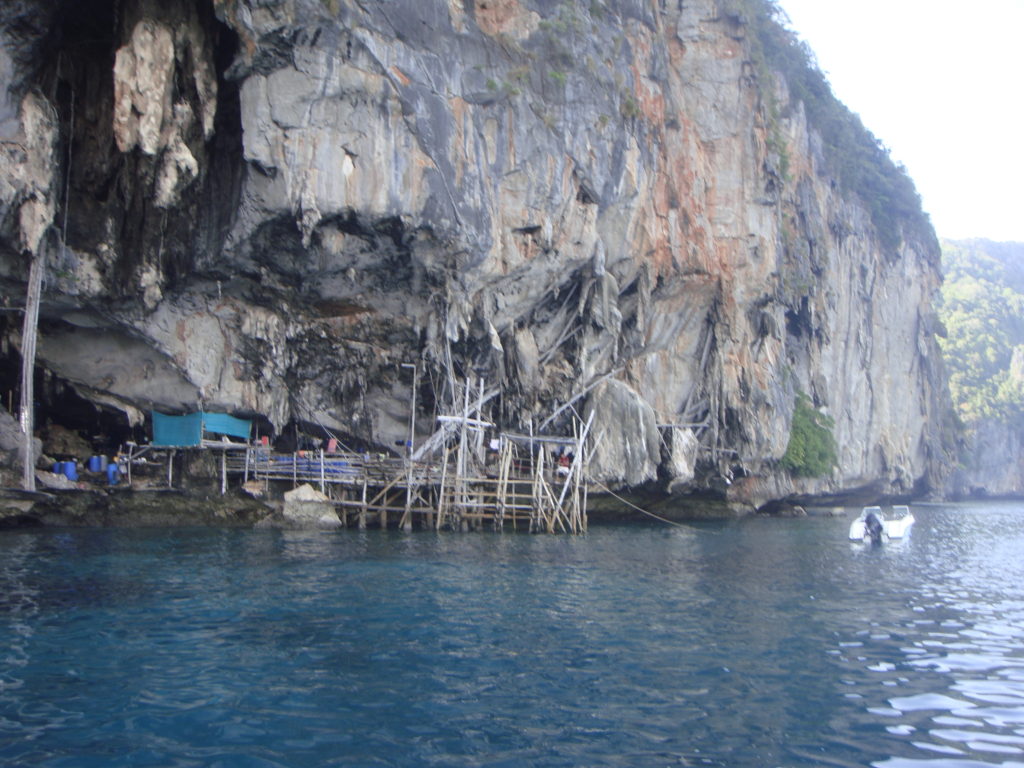 The final stop was Ao Maya (or Maya Beach) which was made famous by the movie, "The Beach", starring Leo DiCaprio. He plays a backpacker in Southeast Asia and the movie centers around this off-the-beaten path beach that they party and live on.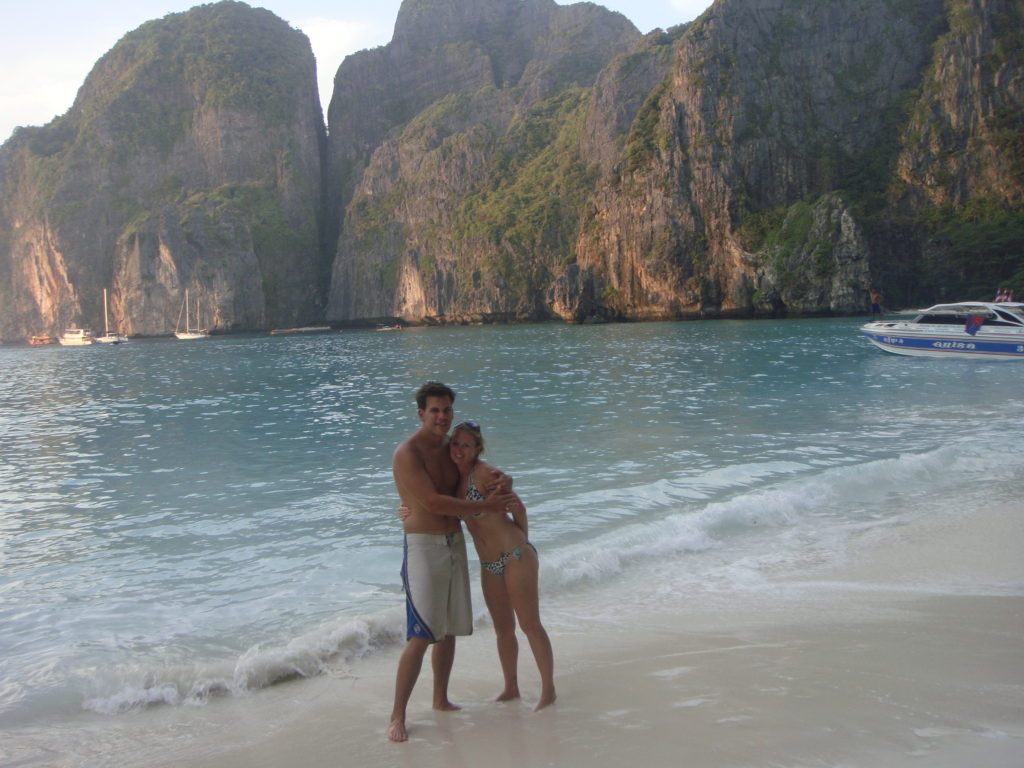 This has become quite a popular spot to visit and the only way to get here is take a boat. You can't see it in the above photo, but there are dozens of boats and at least 200 people around. Our final full day in Ko Phi Phi we spent snorkeling, tubing and lounging on the beach near our hotel.