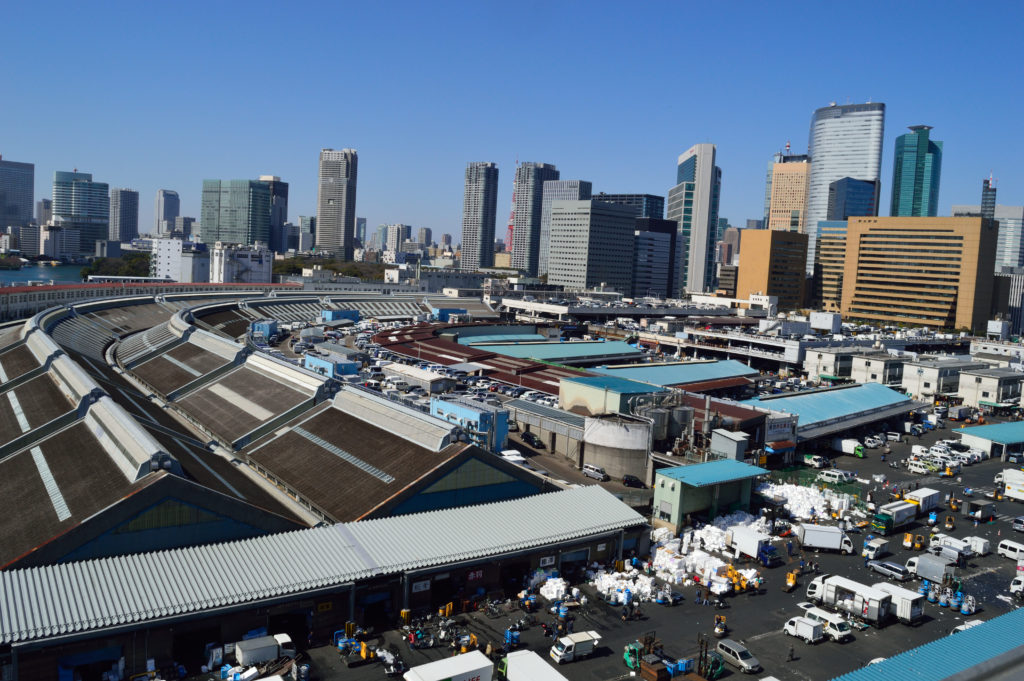 While, we stopped in the Tsukiji Fish Market on our bicycle tour a few days back, we also signed up for a food tour led by Japan Wonder Travel. Tsukiji is the world's largest fish market and is set to be relocated in the coming year. There is an inner, more business/wholesale oriented area and then an outer market and restaurant area.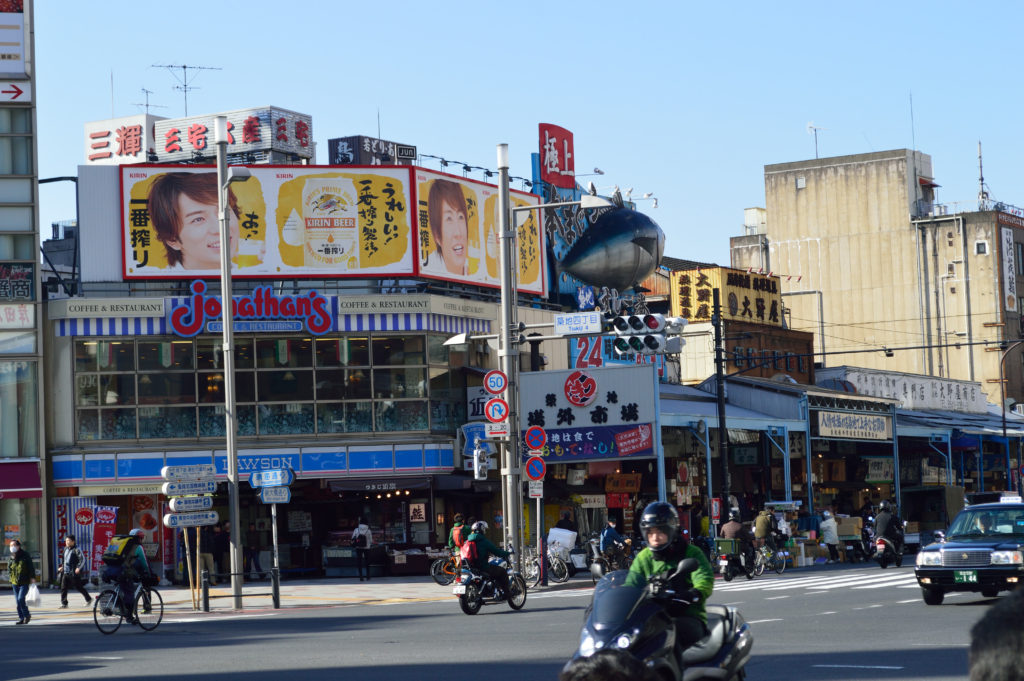 We made our way to the bustling inner market where over 900 vendors move over 700,000 tons of seafood every year. This is also the site of the very famous tuna auctions that appear in the news – a very large tuna auctioned on an auspicious day can fetch over $1 million.
The fish market even has it's own Shinto shrine.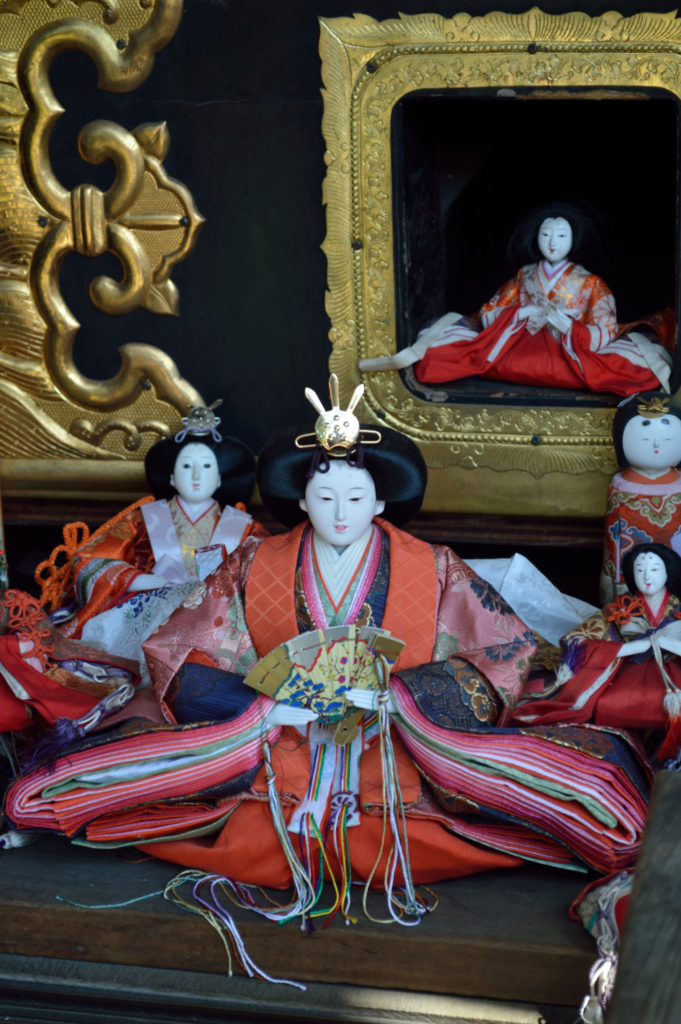 Now it was time to eat. As you walk through the outer area, there are hundreds of vendors passing out free samples and selling products to take home.
We ate and ate, picking up some packaged food to take back to the States too.
Before leaving the outer market, we stopped into a sake shop and drank with the group – there were 6 people on the tour including us.
Finally, we capped off the tour with a delicious sushi lunch. It was a stand-up sushi bar with only 12 seats and 4 sushi chefs working behind the counter. This was an excellent tour by Japan Wonder Travel and my feelings are shared by many – their TripAdvisor page has 283 "excellent" ratings out of 294 total reviews.
After a coffee, we went back to the Japan Sake Center to sample more sake. We were just here yesterday but we only tried 10 of their 40 available sakes.
Next we went to a very controversial shrine, the Yasukuni-jinja. This is often called the war memorial shrine, and it serves as a shrine for the soldiers who have given their life in service of Japan – including some class A war criminals.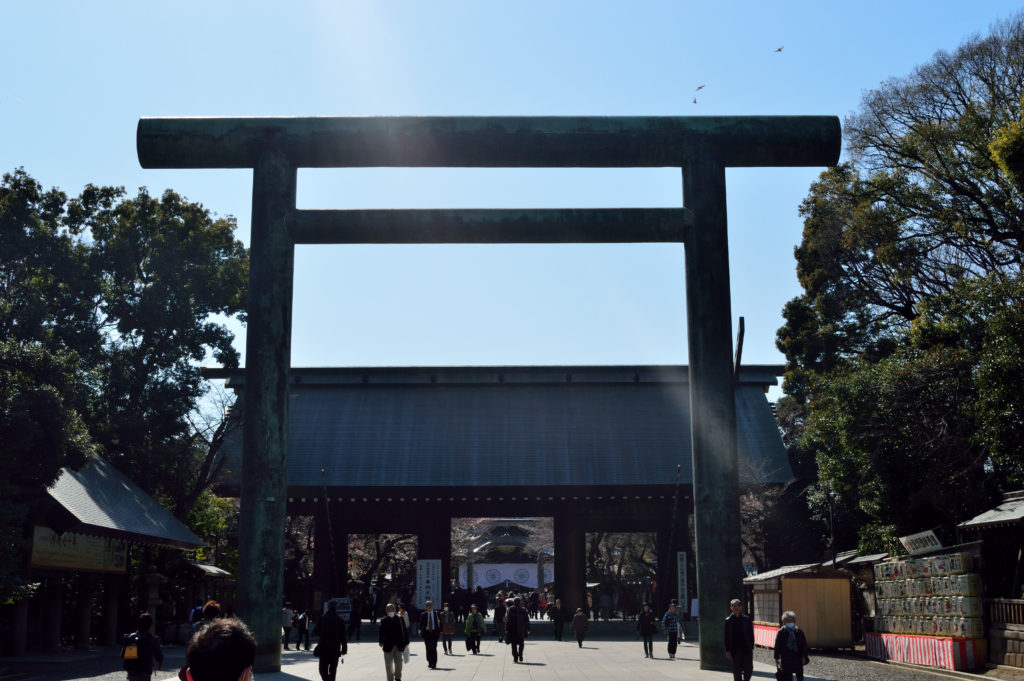 Anytime the Prime Minister visits here, it causes a stir in the news. China and Korea loudly protest this as Japan celebrating it's militaristic past that had such devastating effects on their countries. There is also a museum on site that critics argue whitewashes and revises Japan's role in World War II.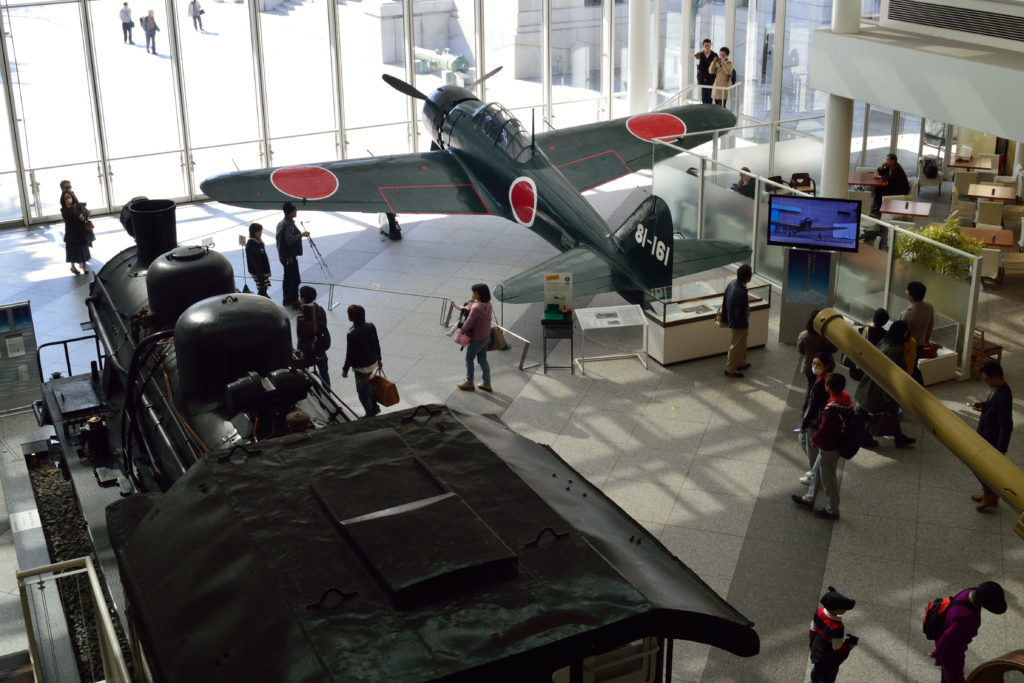 In the picture above, you can see a zero fighter that Japanese pilots flew during World War II and a train locomotive used on the infamous "death railway" that Japan built when they colonized Southeast Asia.
Kamikaze pilots have their own statue to honor them, the Rape of Nanking is called the Nanking incident – the list of offenses goes on. There's even a statue of the sole judge who voted not to execute the Japanese general whose troops leveled Manila to the ground during World War II (He was executed anyways). Shannon and I love Korea and its difficult for us to see this museum that glorifies Japan's invasions and colonization in the 16th and 20th century.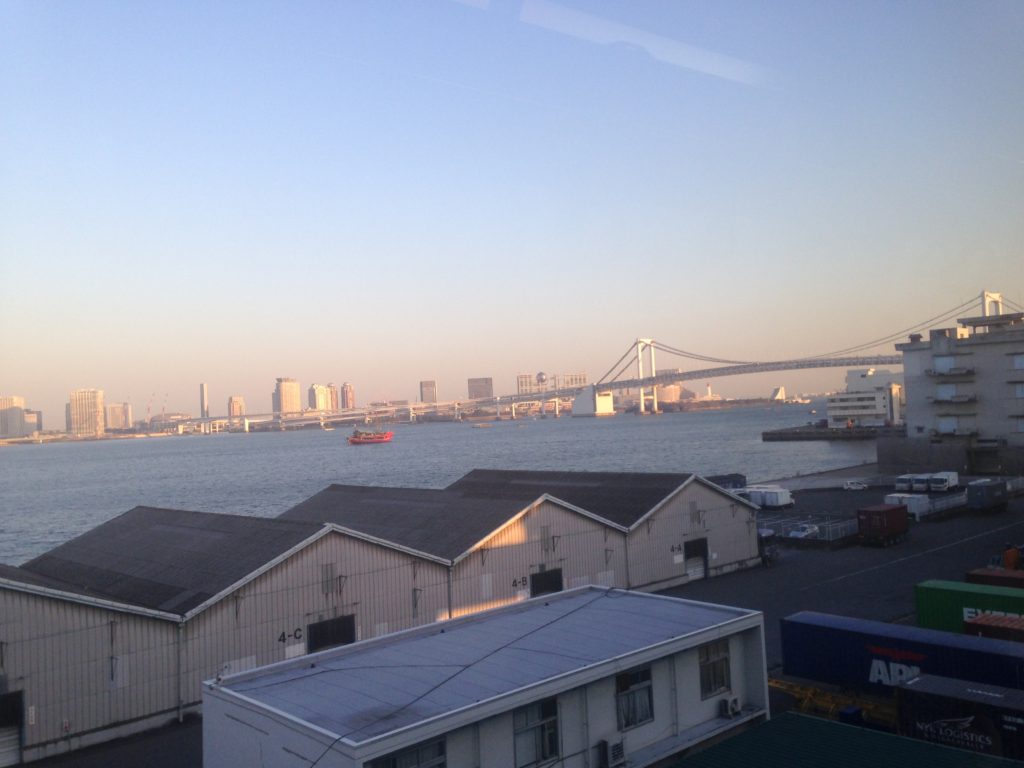 At night we went to Odaiba, a man-made island in Tokyo Bay, to visit the Onsen there. An Onsen is a hot spring-fed bath and since Japan is on the ring of fire, there are loads of them throughout the country. The traditional ones can be very expensive, isolated and luxurious. This Oedo-Onsen is more of the theme-park variety but you can't beat it's proximity to Tokyo.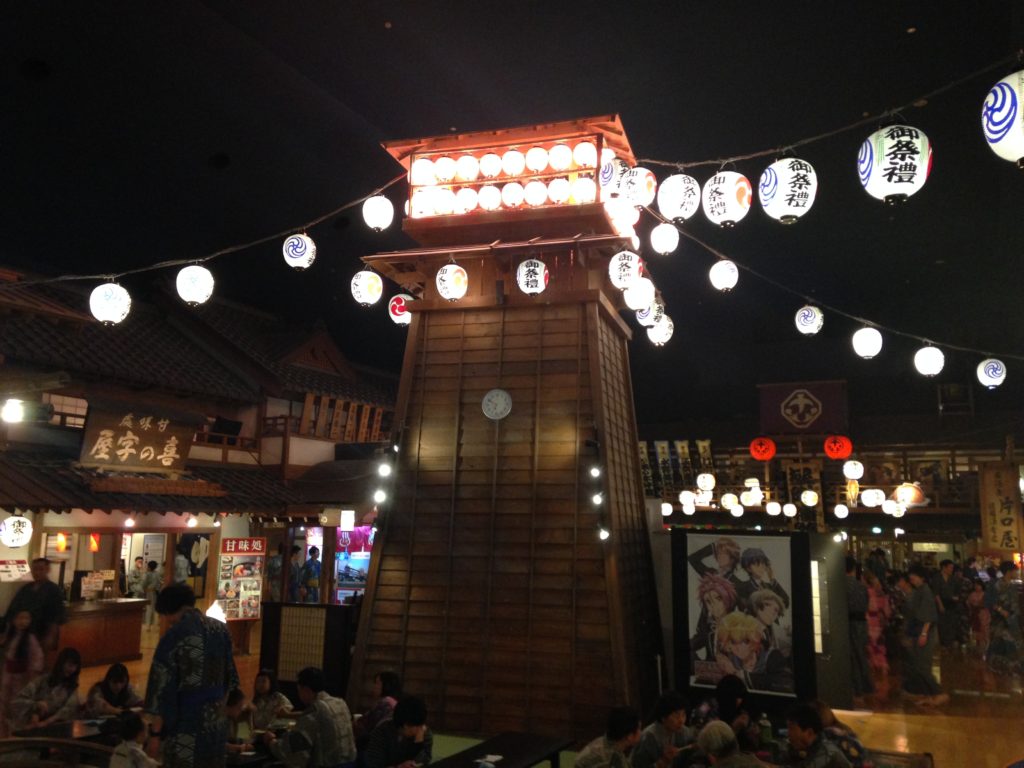 Once inside, we got changed into light cotton robes called yukata and got a couple beers.
There was a really nice outdoor area with blooming cherry blossom trees and warm foot baths.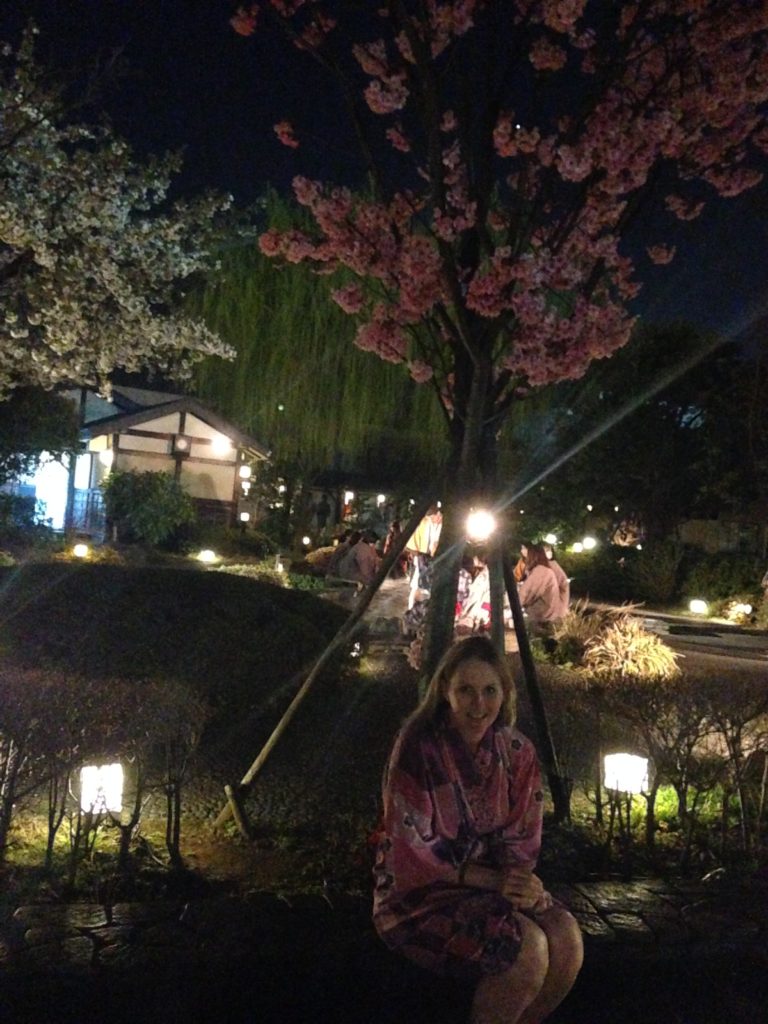 The main attraction is very similar to SpaLand in Busan, South Korea, where Shannon and I would go frequently when we lived there. Women and men have separate areas and you can soak in baths of all different temperatures completely naked. It's very relaxing and obviously I don't have pictures of this area. Back in the main area, people can eat, drink, relax or play the many games they had.
We went back to our hotel's neighborhood and capped this very long day with a nice sushi dinner.